Wedding Stuff: Picture Post
This weekend was really fun... but, some pics that I promised earlier so this story can go on smoother.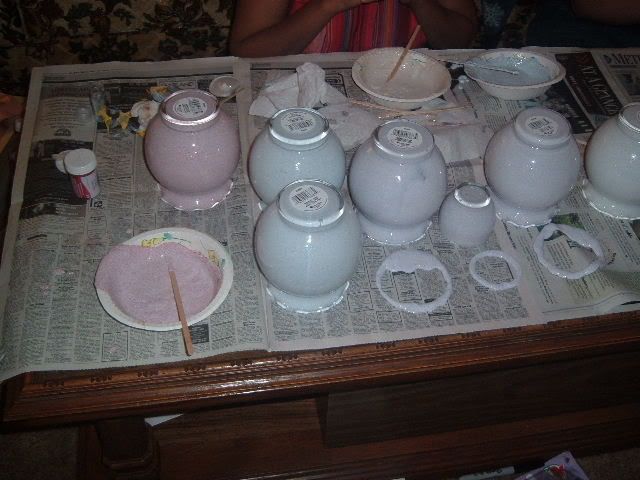 Here's the unfinished product of the centerpieces. Lovely, ain't they?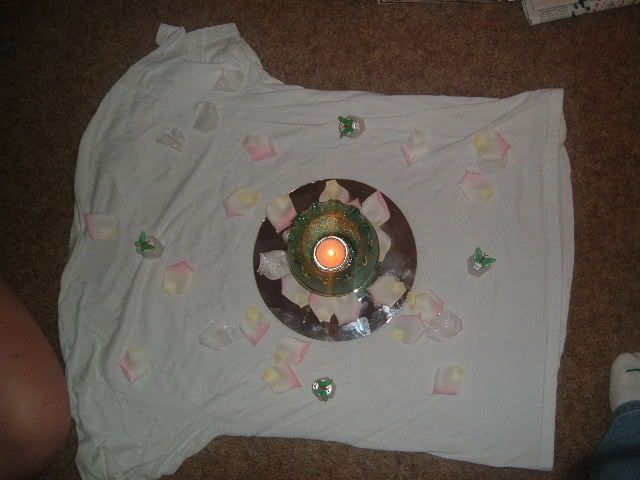 Here's the finished product. Sorry... I didn't get a side view, but it's absolutely beautiful. See the butterfly bubble things? I helped paint those... and the rose petals were a nice touch.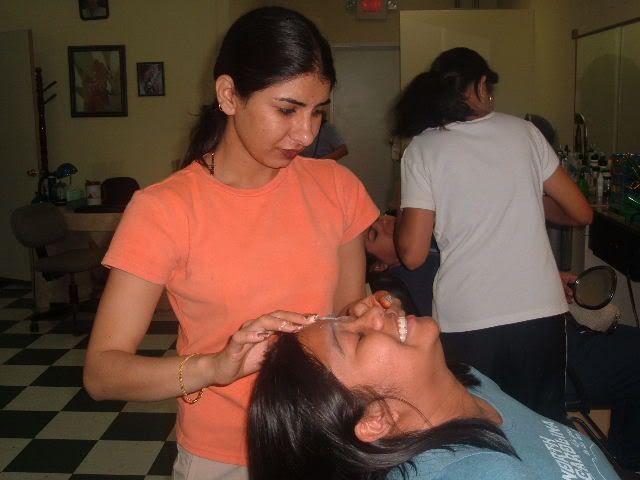 This is before I got threaded. Yeah... the powder kinda tickled. That lady looked unhappy to have her pic taken.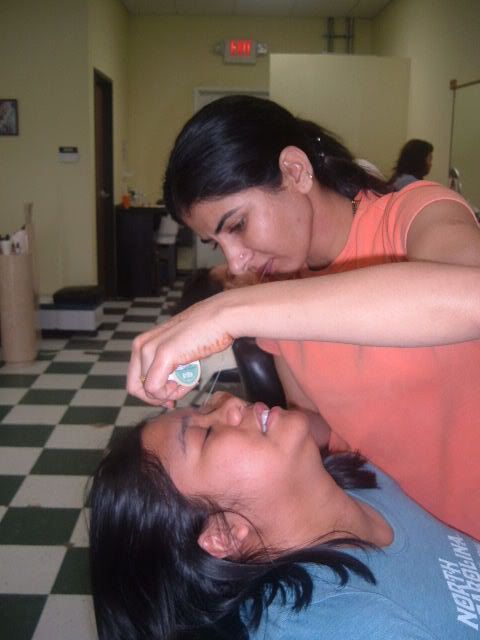 This is during the threading. I love Quidsia for taking me in the first place and taking these pics. I love her half to death.
Anyway... back to the post. This weekend was April's bridal shower. It was kinda last minute because Lauren (the maid of honor) was only available during the month of July. I called all the people on my list, but only the 4 of us, April's mom, and April's mother and sister-in-law-to-be were able to show. Personally, I liked it better this way... it was more intimate.
We had it at the Chili's where April's fiancee worked as a manager.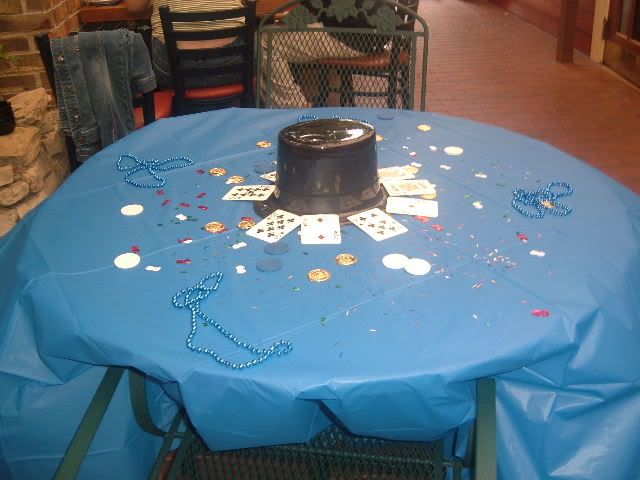 Here's what the tables looked like. We were going to have a generic white and roses theme, but decided on the Vegas theme because that's where they were going for their honeymoon. The people in the background were just annoying and wouldn't move even though we reserved the whole patio.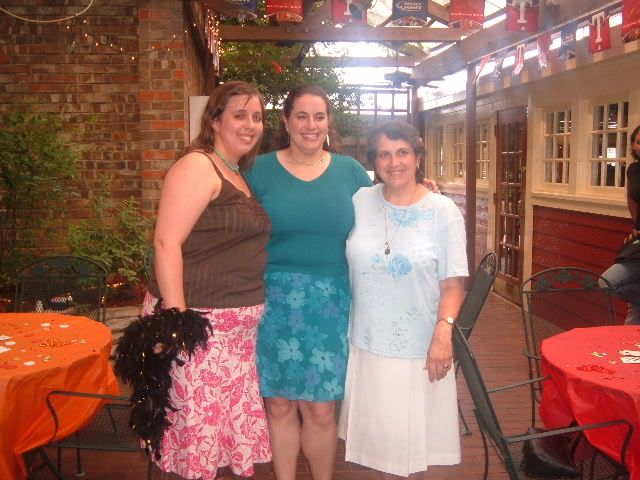 This is Lauren (the maid of honor), April (the bride-to-be), and Mama Ferarra. April really like the theme. You see that sliver of a person to the right? That's our waitress, Unique (I swear, that's her name). She was really nice. Gotta love her.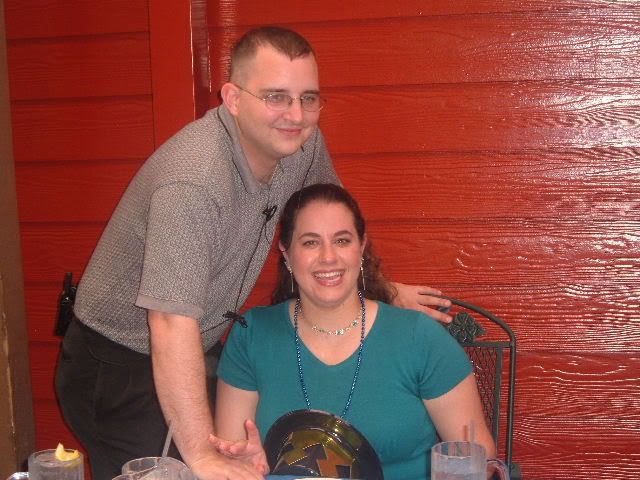 Jimmy (the fiancee) and April. Jimmy wasn't supposed to be there, but he just wanted to make sure things went smoothly. What a sweet guy!!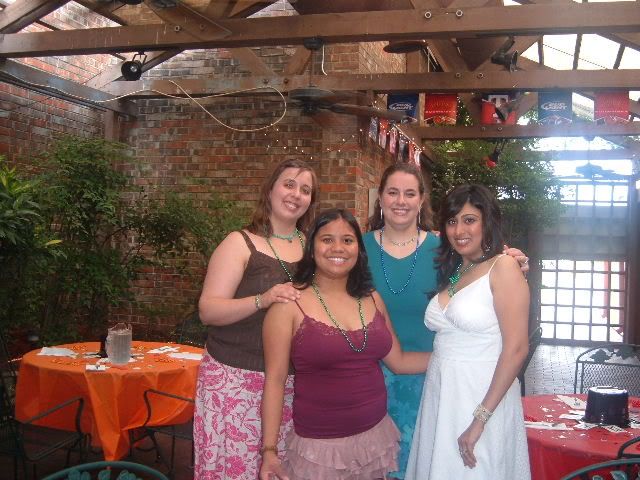 Here's the bridal party. (Back L- R) Lauren, April and Quidsia (the other bridesmaid). (Front) ME!! We look so purdy!!
Things went a little bit slow. We were just waiting for some more people, but like I said... it felt really intimate just having a few people there.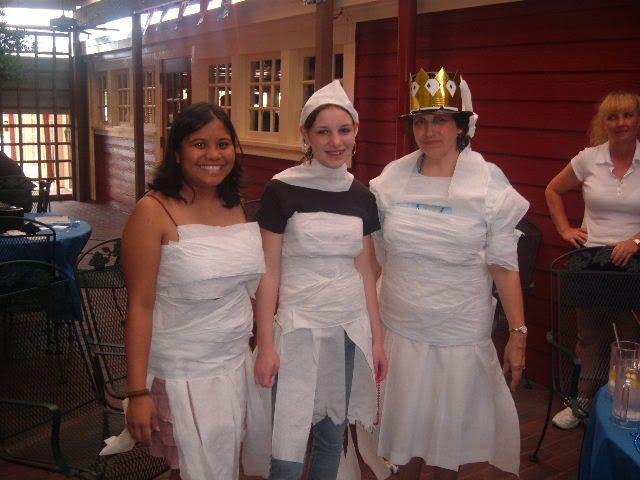 We play some games too. We made wedding dresses out of toilet paper. Me, Cassie (future sister-in-law) and Mama Ferrara. Cassie won this contest. The 3 bridesmaids weren't eligible for the prizes. I really wanted the rose petal bath soaps... LOL.
We then opened presents, but I forgot to take pics of them. Sad, I know. LOL.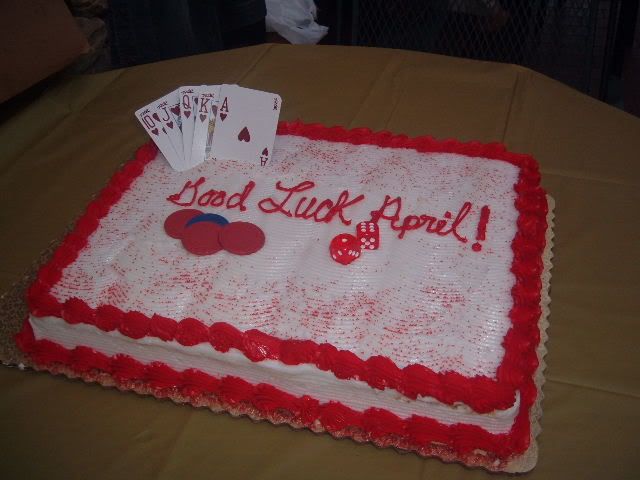 Here's the cake... purdy ain't it?? Delicious too. We even gave some to the people who helped us. Remember: always support your waitstaff and bartenders by tipping them.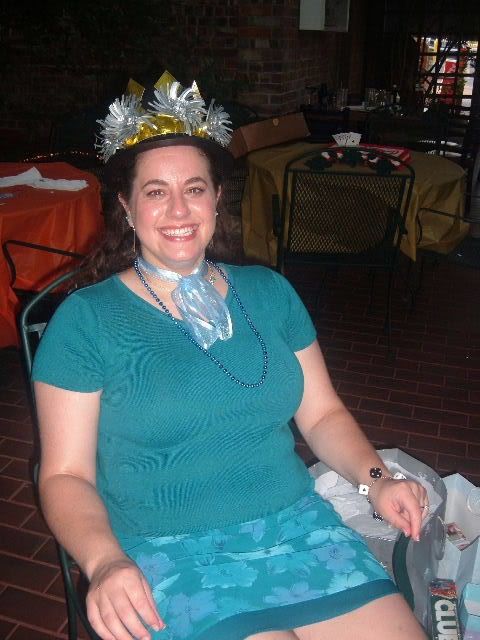 April and her bow hat. Yes... that's a board game. She has the coolest wedding registry.
Now some candids: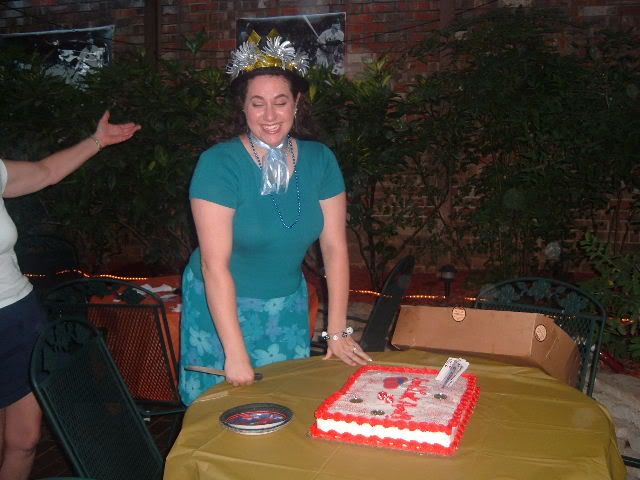 April and her cake. YUM!!
Me and April. Loves it!!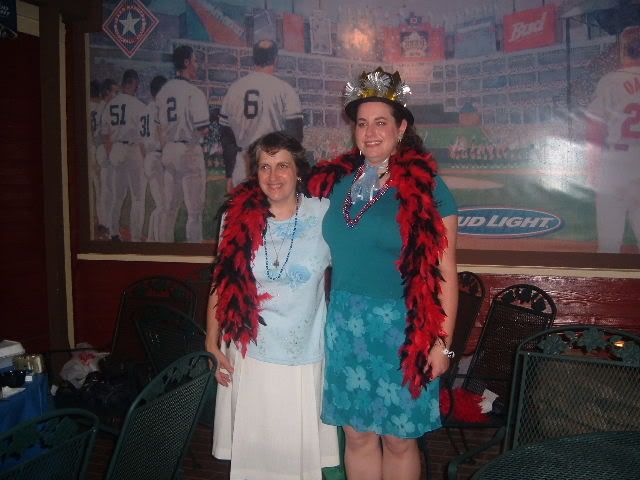 Mama Ferrara and April. Aren't they cute??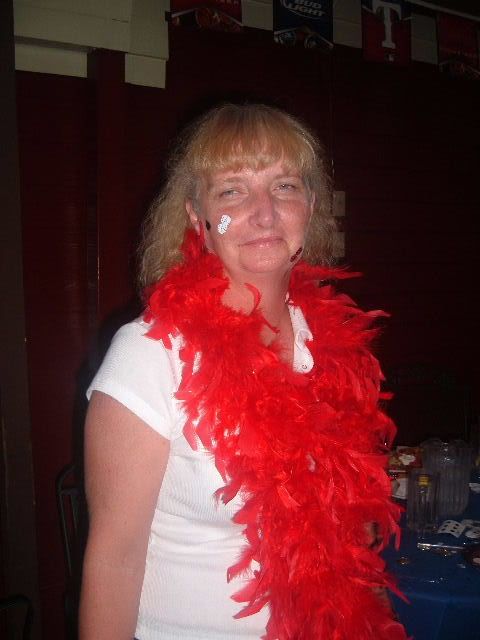 This is Kathy (future mama-in-law). She is totally fun. She gave April some "motion lotion". Hey... I wanted to give that, but the other bridesmaids wouldn't let me.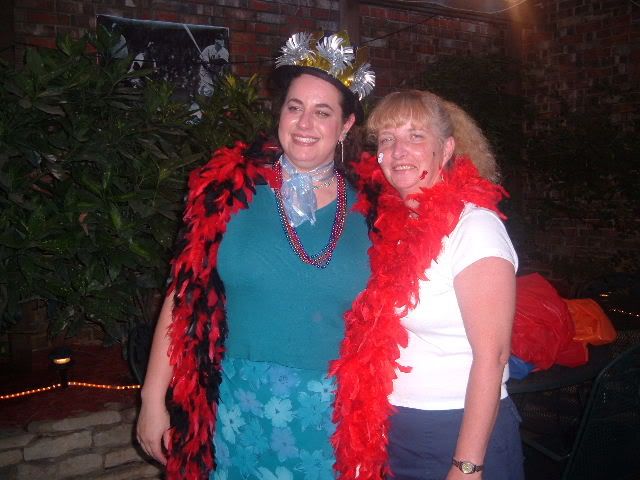 April and Kathy. I'm glad they're happy. I just can't until the wedding. I'm glad Jimmy is April's life because his family is nice and fun.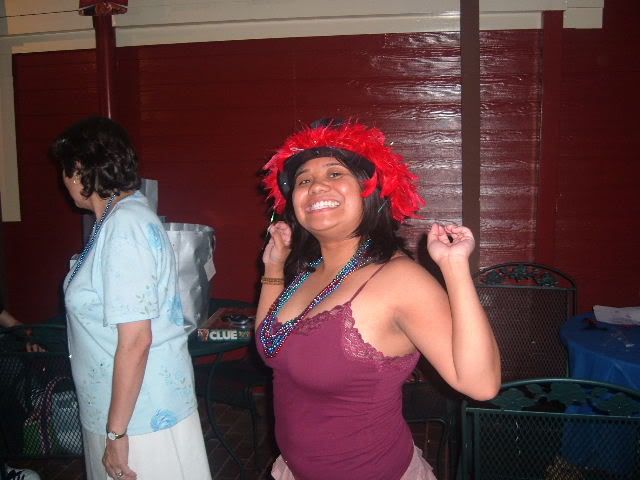 Y'all know I'm a conceited bitch. LOL. I did like my outfit though.
Anyway... sorry for the long post, but it's a picture post; so it all balances out. I hope you enjoyed it.
Ciao for now, my pretties.
Some sad news... at least for me and most of the Catholics in the area:
I know I should have written this earlier, but I've been so busy.
Bishop Joseph P. Delaney had died at the age of 70.
He had been sick for a very long time and I guess it was just his time to go.
I know most of you don't care, but I had to say something because he was close to my heart.
Whenever my late grandmother and I went to help clean the church back in the day, I always caught a glimpse of him. Mass seemed more special whenever he presided. I even had the privilage to serve with him for the Class of 98's baccularate mass back in high school (remember I graduated in 99).
It'll be weird not knowing he's there.
I guess that's about it. I'll miss him.